Lake Garda with its 370km2 of surface is the largest Italian lake. Its coasts touch three regions of Italy, Lombardia, Veneto and Trentino-Alto Adige.
Lake Garda is navigable in almost its entirety, with the exception of only the upper Garda Trentino area, which is reserved for sailing and windsurfing. The area extends from the stretch of water in front of the coasts of Riva del Garda, Arco, Torbole (about 10 km2) and here motor navigation is completely forbidden.
Except for the area indicated above, you can indulge yourself with the boat and visit every point of Lake Garda of your interest.
The must-sees that we recommend during your
boat excursion
are:

1) The Island of Garda / Isola del Garda
Also known as Isola Borghese, it is the largest of the islands that rise on the lake and is located in San Felice del Benaco area. It is a private island belonging to the Cavazza Counts and is still inhabited by the family. Isola del Garda can be circumnavigated by boat, paying particular attention to the yellow and black signs that indicate where to go to avoid dry areas.
2) Punta San Vigilio and Baia delle Sirene
Punta San Vigilio is a splendid peninsula belonging to the Municipality of Garda (Veneto).
The best solution is to get to Punta San Vigilio directly by boat to enjoy a splendid sunset or a whole day of sunshine, swimming and lunch on board or stopping at the ancient inn.
You can anchor the boat in front of the Baia delle Sirene and immerse yourself in these splendid waters, it is the ideal place for those who want to stop for a long time to enjoy the sun and the fresh waters of Lake Garda.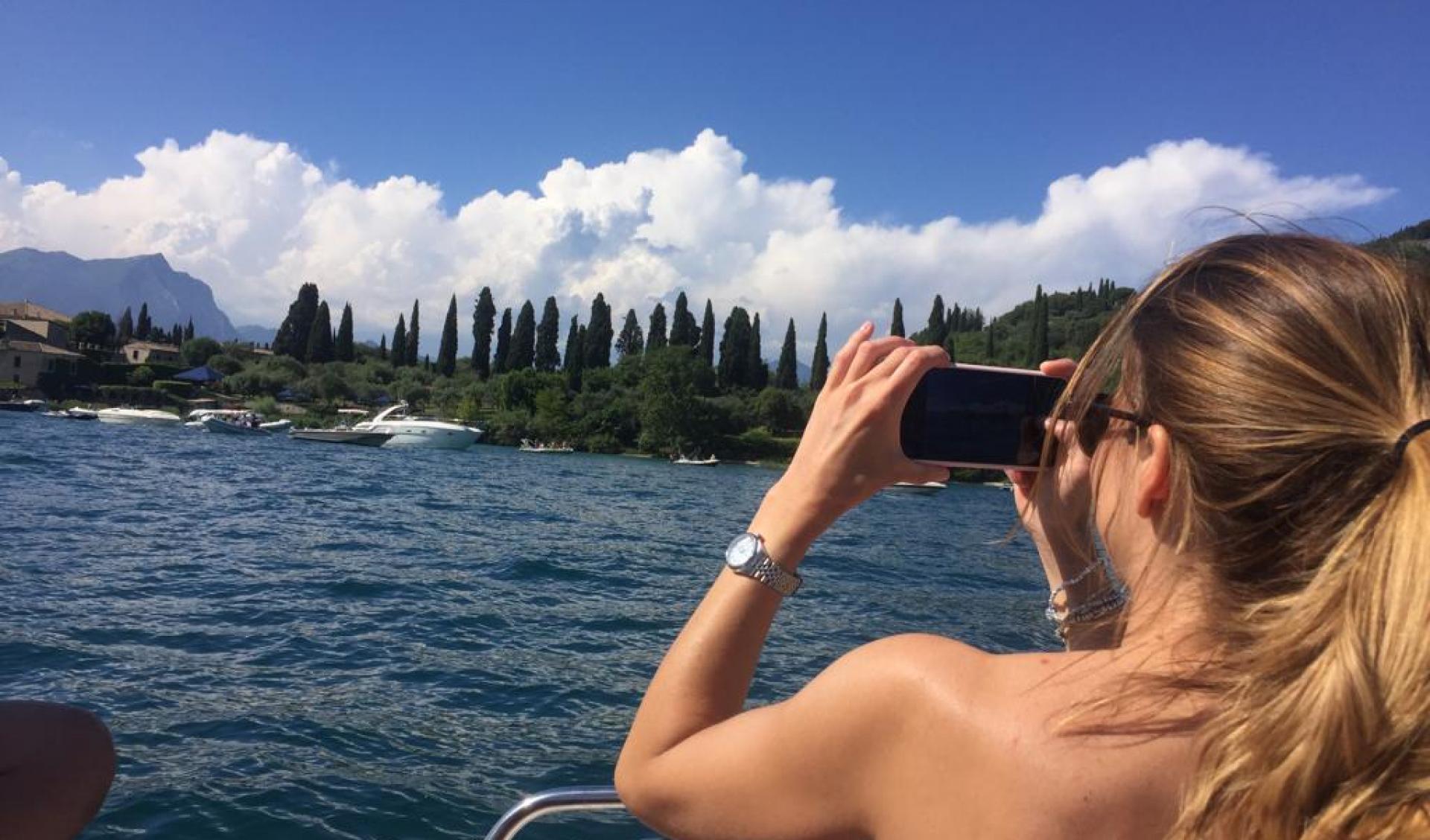 3) Villa Feltrinelli, Palazzo Bettoni
It is possible to admire the grandeur of two historic buildings from the lake, both located in the Municipality of Gargnano.
Villa Feltrinelli, once the historic home of Benito Mussolini and today a grand luxury hotel with a starred restaurant, who has nevertheless managed to maintain the elegance and harmony of the past.
Palazzo Bettoni, historic eighteenth-century residence of the illustrious Bettoni Counts, also known as "the little Versailles". Today the fabulous Palazzo is open to the public for guided tours and it can be rented exclusively for ceremonies and events.

4) The Sirmione Peninsula and the Scaligero Castle
The Scaligero Castle of Sirmione is one of the best preserved historical fortresses in Italy and a rare example of lake fortification. By boat, you can visit the entire peninsula and skirt the Sirmione Castle at a safe distance to admire it in all its grandeur. It is forbidden to enter the waters of the castle walls.